Smoothing + Anti-Aging + Glow
AM/PM for all skin types.
What it is: During the warm months, the sun and heat can do a number on your skin. Recently featured in The New York Times, The Duo by Tulura is a two-step moisturizing program designed to smooth fine lines and prevent signs of aging, ensuring a bright, all-day glow.
The Duo includes:
Vitamin Peptide Serum 1.7FL.OZ
Botanical Facial Oil Warm Season 1FL.OZ
Vitamin Peptide Serum: This serum is an instant skin refresher, combining five powerful anti-aging peptides that stimulate your skin's natural functions. Plus it's pH balanced, so you can skip your toner.
Botanical Facial Oil: When it's warm outside, your skin needs a little extra help to stay balanced and protected. This botanical facial oil does just that by providing a nurturing blend of hemp, marula and tamanu oils to soothe and moisturize.
For the complete list of ingredients, please refer to the ingredients page.
Made in USA
Safely packaged in tamper proof pouch
Fully recyclable glass bottles
Proprietary formulations made in USA
Produced in small batch with vegan, organic, cold pressed, unrefined ingredients.
Orders over $50 qualify for free shipping.
Typically ship within 1-2 business days from Monday to Friday.
Question? Send us a message to info@tulura.com or see our shipping page.
Contact us within 30 days of the ship date to return an item. Learn more at tulura.com/return
Customer Reviews
04/27/2022
Taylor S.

United States
Repeat Customer
The warm season facial oil is one of the best products I have ever used!
12/12/2021
Sue d.

United States
Luv Tulura
Addicted to the feel, the scent and the way it makes my skin glow
09/26/2021
Allison A.

United States
Simple, Luxurious, EVERYTHING
As a mom of two - toddler and infant - I needed a skincare routine that is short and simple or I won't do it. Tulura is that and more! It's fast and easy to take care of my skin but it's also extremely luxurious to put on and the smell/feel lasts so long, I feel like I'm indulging in a spa day every day!
09/15/2021
Sarah N.

United States
Blissfully beautiful in every way
I learned about Tulura a few years ago by the owner's sister (Another gorgeous human being) I followed them for awhile and finally was able to purchase their new stock with new packaging. I have to say that everything about this brand is so blissfully refreshing. The packaging is top notch, it's new glass bottle with easy paint and droplets makes its super easy to apply. The serum goes on silky, absorbs immediately. The warm season botanical oil is sensational, I mean the absorption and moister that it gave my face is truly worth every penny. My new favorite obsession brand, I adore everything about it. Thank you Fred & Eileen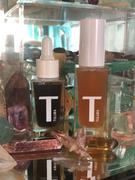 08/31/2021
Paula N.

United States
Can't live without it
I've been using the tulura duo for 5 years now and my skin has never been happier. The serum is my lifeline and the smell of the warm season is my absolute favorite - I feel ***** without it!
05/08/2021
Jennifer B.

United States
Amazing skin
Love this duo! I love how the serum instantly soaks into my skin and the botanical facial oil just locks it all in. This is my third set and my skin looks amazing
05/05/2021
melissa s.

United States
warm is great ! the cold however...
It is strange. I am on my third se of tulura. I hav had two cold seasons and now this is my first warm season. I love the exceptional customer service. minimal but personal packaging and honestly swift excellent shipping. my bottle of cold oil I have had three it is strange I am not sure if it needs to be remade as they seem to not close completely once opned and it leaks :( really bummed out about it. I feel the products are excellent quality though and the owners though we have not met in person seem really lovely. thank you
04/26/2021
Lucik G.

United States
A must try
My face has never looked and felt better. It's controlled my adult acne breakouts along with creating an even skin tone glow and firmness. Been using Tulura products for over a year and love the fact it's a clean 3 step product.
04/06/2021
Chrissy C.

United States
Great ingredients, but didn't love it
I really wanted to love this product - the ingredients are top-notch, and peptides generally do wonders for my skin. But somehow, this just didn't work for me. I have very dry, but not sensitive skin. My skin didn't feel as moisturized as I had hoped, and the finish made my skin feel oddly tight. The warm season oil had a pungent aroma that I just couldn't adjust to (not an added fragrance, but nevertheless, a strong fragrance). Two stars because the ingredients and formulation are great, and probably work wonders on a different skin type.
12/16/2020
adriana c.

United States
One of the best products combo. I habe tried
I love it ! It's all natural and organic. Can't ask for more
Our promise to you
No parabens
No fragrances
No fillers
No synthetic preservatives
Nothing to hide
Our commitment
Drawing on my life experience in South Korea, Hawaii, and New York, I developed a deep interest in natural treatments from around the world.
Now, with my facial studio and skincare line I'm on a personal mission to bring a better skincare experience to everyone. I believe the highest quality ingredients are the key to unlocking healthier skin, more self-confidence, and results you can see and feel.
Love and respect.
Eileen Feighny della Faille — Founder
Celebrity Facialist, Licensed Esthetician, and Certified Aromatherapist
Tested on women,
not on puppies.